Course
RR501 - Sacraments of Christian Initiation I: Baptism & Confirmation
Not avaliable for online application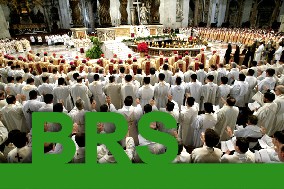 General Information
Course Type
On Campus
Course Category
R03 Liturgical & Sacramental Theology
Description
Teaching Objective:
A comprehensive study on Sacraments of Baptism and Confirmation among the Sacraments of Initiation, in respect of their biblical foundation, Liturgical Traditions, dogmatic teachings, and pastoral application.

Teaching Content:
1. Water, Air, Oil, Food, Rites of passage in terms of Anthropology and as indicated in the Old Testament
2. Baptism of Jesus at the Jordan, Baptism in the New Testament
3. Initiation Rites in East and West within the pre-Nicene period: Early Christian writings and patristic sources
4. 4-5th Centuries: documents, patristic sources on evolution of initiation rites in East and West
Lent and Holy Week in Jerusalem
5. Medieval Times to Vatican II (Initiation rites and catechumenate)
6. Rite of Christian Initiation of Adults, Vatican II
7. Theology of Baptism and of Confirmation in the Catholic Church up to Reformation
8. Baptism and its Theology in major Christian denominations since Reformation, and response of the Catholic Church
9. Discussion: Infant Baptism, Confirmation, theological and pastoral issues
10. Liturgical space as integration of the liturgical theology of the Sacraments of Initiation
11. Theological summary and reflection

Teaching Mode:
Lecture and Group Discussion

Assessment Mode:
Paper
College Organization Structure
HIGHER INSTITUTE OF RELIGIOUS SCIENCES
Course Tuition Fee
1150.00
Course Combination
There is no records at the moment.